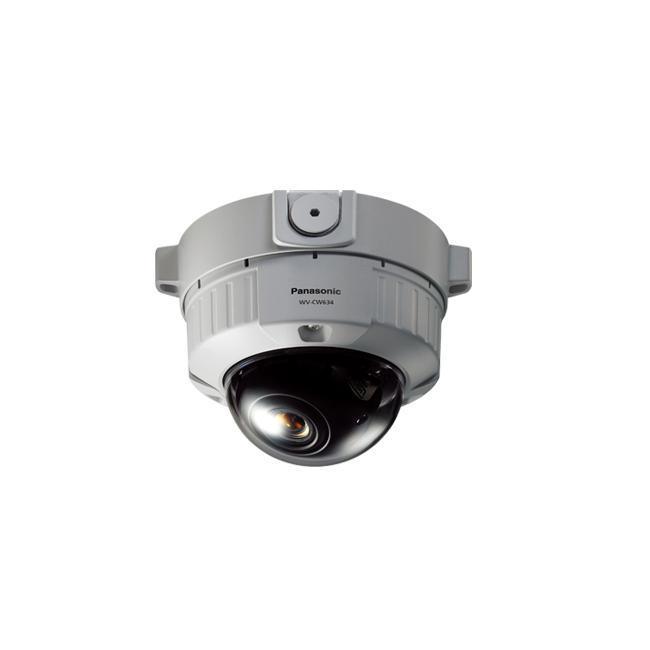 Panasonic Super Dynamic 6
Vandal Resistant Fixed Dome Camera
Vandal Resistant Day/Night camera featuring Super Dynamic 6 technology
Features :
Super Dynamic 6 delivers Superior image by fusion of Super Dynamic, ABS (Adaptive Black Stretch) and VMD (Video Motion Detection) intelligence technology.
Newly developed CCD with 976 of horizontal pixels has led to the horizontal resolution of as high as 700 TV lines typical.
High sensitivity with Day/Night (ICR*) function: 0.08 lx (Color), 0.008 lx (B/W) at F1.4 (Wide). *ICR: IR Cut filter Removal IR cut filter switches on/off to enhance the sensitivity in B/W mode.
VMD (Video Motion Detection) including video motion detection, scene change detection when lens is covered, spray painted, removed or defocused
ABF (Auto Back Focus) ensures easy installation and stable focus in both color and B/W modes.
3-dimensional color conversion function for natural color reproduction even in lower color temperature situation
Adaptive Digital Noise Reduction: Integration of 2D-DNR and 3D-DNR ensures noise reduction in various conditions.
Electronic sensitivity enhancement: Auto (Up to 32x) / Manual (Up to 32x)
Electronic shutter from 1/100 (NTSC), 1/120 (PAL) to 1/120,000 sec.
3.8 to 8.0 mm, 2.1x Varifocal Auto Iris lens with 2x digital zoom
Auto Image Stabilizer for applications where vibration or wind is a concern
Internal / Multiplexed Vertical Drive (VD2)* synchronization
Over the coaxial cable data communication
16 alphanumerics camera title display
Multi language: English, Italian, French, German, Spanish, Portuguese, Russian, Chinese, Japanese
IP66 rated water and dust resistant. Compatible with IEC60529 measurement standard.
Vandal resistant mechanism for high reliability
Monitor output for easier installation
3-way hinge (horizontal, vertical and swivel rotation) for easy installation
2 pcs. mounting bracket structure for easy cable connection
Various mounting options: Flush mount (F type), Surface mount (S type), Embedded ceiling mount (with optional WV-Q169A)
Optional heater maintains operating temperature –30 °C to +60 °C (–22 °F to 140 °F)
Fog compensation function equipped as standard.
HLC (High Light Compensation) technology reduces strong light sources such as vehicle headlights to prevent camera being blinded.
*NTSC model only
Panasonic WV-CW630_2A