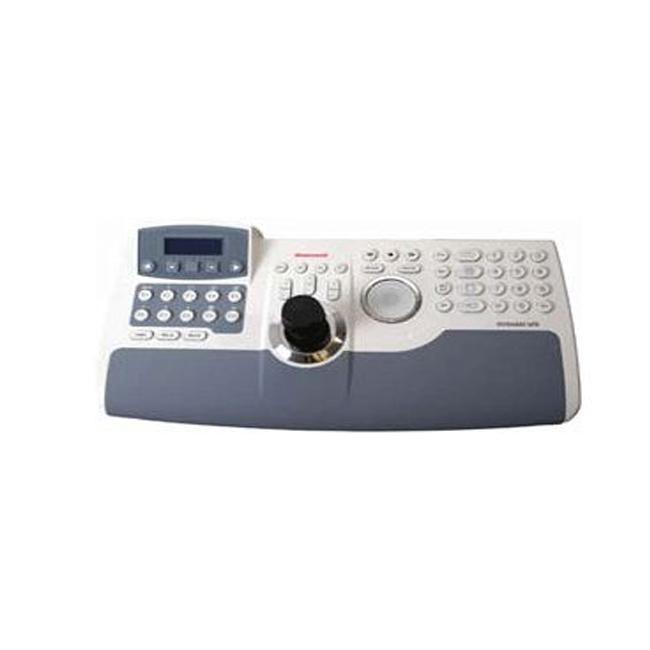 Honeywell UltraKey Touch
DVR AND PTZ DOME CAMERA CONTROLLER
The HJC4000 controller represents the latest advancements in PTZ (pan/tilt/zoom)
dome and DVR (digital video recorder) control for CCTV security professionals.
Designed for operator ease-of-use and system flexibility, the HJC4000 offers
superior control for Honeywell's video products including ACUIX™ Series PTZ
dome cameras and the HRXD, HRSD, and Fusion Series of DVRs.
Each HJC4000 can control up to 128 dome cameras or 128 channels from DVRs.
The HJC4000's flexibility is enhanced with the option of slaving keyboard
controllers, allowing control from four separate locations.
With an ergonomically designed keypad and 2-line LCD display, the HJC4000 is
easy to learn and simple to use. Programming can be done directly through the
keypad and LCD display or through a simple web browser. Standard PTZ camera
functions such as set and recall of presets, pan, tilt and zoom, tours and PTZ
menu are easily accessible and managed by an operator. Additionally, higher level
dome functions such as home preset, remote reset, privacy zones and mimic
tours are also available to operators when needed.
While in DVR mode, users can easily access standard recording and playback
functions, display modes, navigate through menu screens, and control alarms.
The HJC4000 makes it possible for operators to control their DVRs without the
need for a PC and client software and offers joystick control of PTZs connected
to the DVRs.
Market Opportunities
The HJC4000 is an excellent choice for small- to mid-size installations where PTZ
domes and DVRs are used together. The HJC4000 offers the ability to manage a
system from a single controller that is simple and easy to use. Users can greatly
benefit from shorter learning curves and minimal key sequences. The end result is
greater control of their video security systems.

Features
• Complete control of up to 128 ACUIX™ and HDT PTZ domes
• Support for PTZ protocols: IntelliBus™, Diamond, VCL, Pelco D, Pelco P
• Complete control of up to 128 channels of same protocol DVRs
(HRXD, HRSD, Fusion)
• Option to cascade multiple controllers
•Web browser for simple configuration and firmware updates
•Quick and simple installation with RJ type connectors
• Supports RS232 and RS485 control ports
Honeywell HJC4000